Shek O, liberally means the "rocky bay" and is a peninsula on the south eastern side of Hong Kong Island surrounded by Shek O Country Park, Big Wave Bay and Cape D'Aguilar.
The exclusive Shek O Country Club with its par 65 private golf course forms a large part of the peninsula. There are 2 famous beaches in and near Shek O, the main Shek O Beach having a sandy public beach with a BBQ area and amenities, and to the north is Big Wave Bay, popular with surfers. Shek O is the most isolated location on Hong Kong Island giving it a quieter, tranquil environment which is attractive to expat and local residents alike.
Residential Blocks
Residentially, Shek O is divided into 3 main housing types. First, there are the large, individual detached houses with extensive private grounds scattered around the club and up the coast. These exclusive homes are rarely on the market and in high demand when available. Second, there is Shek O Headland, a circular road round the headland with a mix of smaller detached houses and townhouses, and third there is Shek O Village, originally a fishing village, now a mixture of apartments and houses of varying ages, though several are well renovated.

Some of the properties, especially those on the headland, have amazing views over the South China Sea. Residents are attracted to Shek O for its quieter village atmosphere and beachside life style but available properties are generally in very short supply. Since the area does not have the conveniences of living close to schools and supermarkets, the residential appeal is limited.
Facilities
There are some small, traditional food shops in Shek O but no supermarkets, and there is a selection of restaurants, both local and international, many with the option of al fresco dining. The historic Tin Hau Temple in the village is now a grade III listed building. Both beaches have equipment hire such as boogie boards and lilos.

The Dragon's Back above Shek O is a famous hiking trail and also the location of Hong Kong Island's only paragliding site. Shek O is at the end of a famous 50 km hiking trail starting on the Peak. The rocky cliffs also provide excellent adventure climbing.
Transportation
Shek O is served by the Shek O Road which connects to Stanley and Chai Wan and it is approximately 40 minutes drive from Central, and 20 minutes from the supermarkets near Stanley. There is one public bus, route 9, from Shau Kei Wan (MTR connection) to Shek O Beach. It is also connected by red minibuses.
KEY CHARACTERISTICS:
Surrounded by Shek O Country Park
Two famous beaches nearby
Most isolated neighborhood in HK island
Attractive to expats and local residents
Quiet village atmosphere
Not close to schools and supermarkets
Property for Rent in Shek O
Displaying 1 - 2 of 2 results
Rental:
HK$76,800
For rent
HK$76,800
SA: 1,126
SA 1,126 GA: 1,800
GA 1,800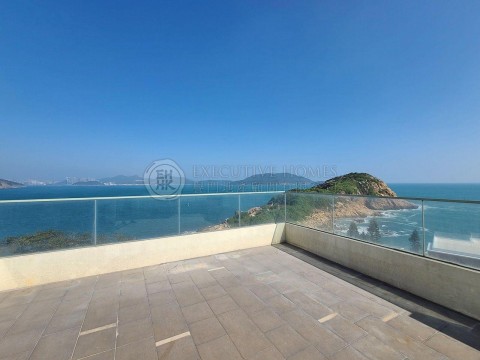 15 Shek O Headland Road
Shek O
Ref#: 124275
*A gated standalone detached house with sea views on Shek O Headland. Separated ...
Rental:
HK$138,000
For rent
HK$138,000
SA: 2,174
SA 2,174 GA: 2,880
GA 2,880
Popular Properties in Shek O
Guide to Residential Districts