The Peak is the highest point on Hong Kong Island with an elevation of 552m. It is extensively covered by country parks and walking trails yet most parts of it are easily accessible to Central by a 10-15 minute drive.
It is home to one of Hong Kong's top tourist attractions - The Peak Tower which can be reached by road or by the Peak Tram, a funicular railway with a terminus in Central. The Tower has a large viewing deck with panoramic harbour views and many shops and restaurants. Next to the tower is the Peak Galleria, a complex also containing many shops and popular restaurants.
Residential Blocks
Residential properties on the Peak are high-end, as the area is all low density housing. It all has a designated plot ratio of 0.5% of the site area or the same density as the existing building. The current trend in recent years is to build luxury townhouses for sale to owner occupiers. However there are still some older colonial style blocks which offer spacious well laid out floor plans and the majority have now been well renovated. In addition, there are some modern apartments and town houses held by corporate landlords and available on the rental market.
Schools
The German Swiss International School's (GSIS) main campus is to be found on lower Peak on Guildford Road. This is home to the entire secondary department and houses the majority of the primary from P2 onwards, while P1 and the kindergarten are in the Pokfulam campus. This school has an extensive school bus network over Hong Kong Island. The English School Foundation (ESF) primary school The Peak School is located on Plunketts Road. Since the ESF schools work on zones, this school accepts applications from all children with a Peak address and some parts of upper Midlevels. There also 3 international preschools on the Peak all in close proximity:
Healthcare
The Peak is also home to the Matilda Hospital, a private hospital rumoured to have rooms with some of the best views in the world from a hospital! It is located on Mount Kellett Road.
Transportation
There is a major transport terminus in the basement of the Galleria for larger buses, mini buses and also taxis. The NWB double decker route 15 goes from Central to the Peak and also minibus 1 which also goes to the Matilda Hospital as part of its route. In addition to being renowned for its low density living, larger properties and being one of the prime locations on Hong Kong Island traditionally popular with expatriate families, the Peak has a climate which is cooler in the summer months when Hong Kong swelters with high temperatures and humidity. However, in the spring time it can be prone to low lying clouds which can envelope it spoiling its famous views for some days.
Facilities
There are three supermarkets on the Peak, a Market Place (the higher end branding of Wellcome) in 100 Peak Road, a Park n Shop in the Peak Galleria and a Wellcome opposite GSIS on Guildford Road. There are 2 public parks on Mount Austin which can be reached by hiking up from the Peak Tower area. There is a lovely flattish walking trail around the Peak, popular with residents and tourists alike, which has stunning southerly views half way round, where this is a public park / recreation area, and the northern half of the trail has fantastic views over Central, Midlevels and the harbour. The Peak Galleria also has an ATM machine offering banking facilities.
KEY CHARACTERISTICS:
High-end, low-density housing
Panoramic views of Victoria Harbour
Served by bus, minibuses and taxis
Several schools in the neighborhood
Property for Rent in The Peak
Displaying 1 - 10 of 43 results
1 Homestead Road
The Peak
Ref#: 113470
3 bedrooms with 2 ensuite. Come with 1 covered car park. Facilities-fitness room & ...
Rental:
HK$130,000
For rent
HK$130,000
SA: 2,156
SA 2,156 GA: 2,828
GA 2,828
1 Homestead Road
The Peak
Ref#: 113469
3 bedrooms with 2 ensuite. Come with 1 covered car park. Facilities-fitness room & ...
Rental:
HK$120,000
For rent
HK$120,000
SA: 2,156
SA 2,156 GA: 2,828
GA 2,828
Kellett Heights
The Peak
Ref#: 113319
Spacious apartment in colonial low rise apartment block on the Peak. This apartment features ...
Rental:
HK$68,000
For rent
HK$68,000
SA: 1,400
SA 1,400 GA: 1,650
GA 1,650
Rental:
HK$170,000
For rent
HK$170,000
SA: 2,517
SA 2,517 GA: 3,100
GA 3,100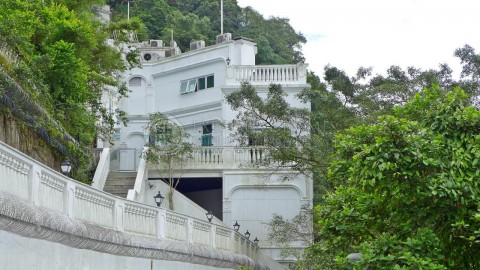 Cheuk Nang Lookout
The Peak
Ref#: 5
A stunning 3 storey detached house with a large private swimming pool, located on ...
Sale:
HK$550,000,000
Rental:
HK$350,000 For sale
HK$550,000,000 For rent
HK$350,000
Carolina Gardens
The Peak
Ref#: 111321
* Rarely available 4 bedroom charming apartment on lower Peak. This apartment has a ...
Rental:
HK$125,000
For rent
HK$125,000
SA: 2,448
SA 2,448 GA: 2,800
GA 2,800
Rental:
HK$368,000
For rent
HK$368,000
SA: 3,787
SA 3,787 GA: 5,083
GA 5,083
The Mount Austin
The Peak
Ref#: 113069
*A newly renovated apartment which has been converted from 2 bedrooms to 1 but ...
Rental:
HK$48,000
For rent
HK$48,000
SA: 734
SA 734 GA: 947
GA 947
La Hacienda
The Peak
Ref#: 111093
A 3 bedroom flat with high ceilings and gorgeous views in a well-managed lowrise ...
Rental:
HK$980,000
For rent
HK$980,000
SA: 2,512
SA 2,512 GA: 2,700
GA 2,700
Rental:
HK$120,000
For rent
HK$120,000
SA: 2,145
SA 2,145 GA: 2,300
GA 2,300
Popular Properties in The Peak
Guide to Residential Districts